Inspection Services
Standards of Practice for Inspections
Points North Home Inspections adheres to the InterNACHI Standards of Practice for all Home Inspections. These practices help to maintain the integrity of our services and ensure that every aspect of the home is fully investigated to strict industry standards.

Included Inspection Structures and Components
Roof
Exterior
Foundation
Basement/Crawl Space
Attic
Heating
Cooling
Plumbing
Electrical
Fireplace (when applicable)
Interior
Doors & Windows
Types of Properties Inspected
Homes
Townhomes
Condominiums
Apartments
Buyer's Inspections
With this service, a Licensed Home Inspector will perform a complete walkthrough and examination of all of the property's important structures, components, and appliances to ascertain their current condition and expose any flaws, defects or potential future problems. Having this knowledge will provide you with the ability to negotiate the best possible price and give you the reassurance needed to be certain that you are making a wise investment for your future.
Pre-Listing / Sellers Inspection
Honesty and transparency are highly valued in the Real Estate Industry. It is greatly recommended to have your property professionally inspected before listing it on the market. This will allow you to address any needed repairs and find potential causes of concern before you assess the property's true market value. Having a professional inspection report can go a long way in helping to sell and help prospective buyers feel more at ease.
New Construction
Home inspection doesn't only apply to older homes. Sadly, many builders will cut corners or use sub-par material to save money on building costs . Having a licensed Home Inspector examine the new construction is a must. The inspector will have easier access to many of the home structures and components and can easily determine if there are any faults in the construction.
Home Maintenance Inspection
A Home Maintenance Inspection is the perfect service for the current home owner that wishes to keep their property value and be prepared for any future problems. An inspector will determine if the home's structures and components are in need of repair or certain types of standard upkeep. This is a service for homeowners that want to maintain the quality of their investments.
Radon Testing
It is paramount to make sure you and your family are safe in your home. When performing a Radon Test, the Inspector will use special equipment to determine if there is any presence of radioactive gas.
Water Testing
Have your water tested by a professional to make sure it is safe for your everyday use. The inspector will test your well or city water for any pollutants, impurities, or harmful elements.
Mold Testing
Mold is a common occurrence in many homes. Your inspector will discuss with the property owner about any past occurrences of mold and completely search the areas of a home that are known to be prone to the growth of mold.
Sewer Drain Pipe Inspections
The Inspector will use a special camera connected to a flexible cable. The video will be monitored and recorded in order to find any issues inside the sewer pipe. Clients will be given a USB version of the video to watch for themselves.
Tools and Technologies
Moisture Meter
Carbon Monoxide Detector
Gas Leak Detector
Points North Home Inspections has Errors & Omissions General Liability Insurance for all of its inspection services.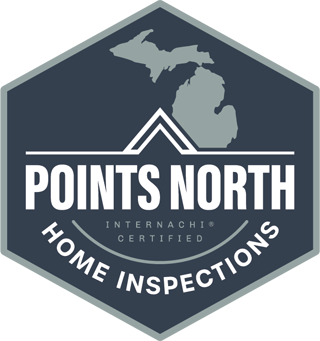 Serving the State of Michigan
At Points North Home Inspections, we have a wide range of services, meeting all of your needs. We will go above and beyond to provide you with the most thorough home inspection experience, leaving no questions unanswered. Contact us today to schedule an inspection!
Points North Home Inspections proudly provides discounts for military, veterans, and first responders!
Inspections starting at $550!